Whether you love it or loathe it, Valentine's Day is here. Retailers are overflowing with hearts, chocolates, and stuffed teddy bears. Restaurants will be packed to the gills tonight with lovers wishing to celebrate. We've seen it all before.
Yet this Valentine's Day doesn't have to be like all the others. It can serve as an opportunity to reflect not only on who you love, but what you love.
I'm sure many of you have heard the quote:
"Choose a job you love, and you will never have to work a day in your life." 
― Confucius
According to The Conference Board's 2013 Job Satisfaction Survey, less than half of U.S. workers are satisfied with their jobs – for the seventh straight year. Are you one of those dissatisfied workers? Have you ever dreamt of having a different, more fulfilling job? And if so, have you ever imagined making that dream a reality?
I understand most people don't have the luxury to drop their current employment, swing a bindle over their shoulder, and head off into the wild blue yonder in pursuit of their heart's desire. Finances, location and other responsibilities can place limitations which are not easily overcome. Have you ever considered that you might be able to work within your specific confines, yet still achieve those dreams?
I bet you could, if you are willing to think outside the box. Perhaps my own story will provide a good example.
When I married my husband and moved to Canada, I applied to become a Permanent Resident. I had read that the process could take between 1-2 years, and I wasn't allowed to work in Canada during that time. I couldn't afford to have no income for so long a duration, nor would I have been able to stand the boredom. I had to get creative.
To pass my time, I would often play a virtual reality game. This game had its own community, with over 36 million registered residents, and its own economy. Real money bought virtual money, which residents could use to buy anything they wanted in-game – land, homes, fashion, pets, you name it. I recognized the need for a blog that would showcase all of the virtual items "on sale" each day. Think of it like the weekly sales papers you get in your mailbox – only updated all day, every day, virtually.
In-game marketing and word-of-mouth quickly made the blog a huge success. It was like I had sprinkled Miracle-Gro on it.
Within the first month, the blog received 4,900 visitors, had an 8-person staff, and had published 129 posts. I had also introduced a new form of advertising unique to the market, selling sticky posts – posts that "stick" to the top of the blog and don't get pushed down the page – as per-day advertising. Within 2 years, the blog had seen more than 450,000 new unique visitors, and hosted 50+ recurring paid advertisements. As of today, there are, on average, more than 1,000 new unique visitors daily.
I had unintentionally found a way to make money, selling advertising – and lots of it – to the virtual community.
While I had never dreamed of running a blog, my circumstances – even my limitations – led me down this path. I taught myself WordPress, basic HTML, marketing and networking skills, management and organization skills – so many things which have made me the person, and the business owner, I am today. And I've never been happier.
This Valentine's Day, take a few moments to consider if you could create a job you would love. It may not be as hard as you think.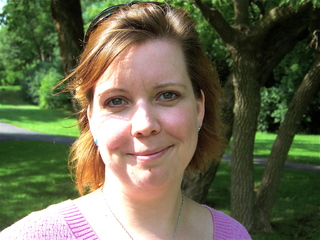 Amanda Mili
Your Business, By Design
Ottawa, Ontario – Serving Canada and the U.S.
email: [email protected]
website: www.amandamili.com